Gamma Beta Phi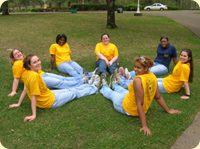 The Gamma Beta Phi Society is an honor and service organization for students in colleges and universities in the United States. It is non-secret, non-profit, and co-educational; and, membership therein does not exclude a student from membership in any other organization. The name of the organization is derived from the initial letters of the three Greek words for education, life, and friendship. It signifies that education and friendship constitute the basis of a full and happy life. The motto of Gamma Beta Phi is Progressus per Eruditioneum (progress through education), and its watchwords are Scholarship, Service and Character.

Why join Gamma Beta Phi?
There are many tangible and intangible benefits of joining Gamma Beta Phi.  The minimum benefit is that as an active member, you will be serving your community by volunteering your time.  Someone's life will be impacted by your service. Your life will also be impacted.  These benefits cannot be measured.  Having GBP on your resume tells people about your willingness to give more that what is expected.  There are many leadership opportunities in GBP as the students run the organization.